Microblading Training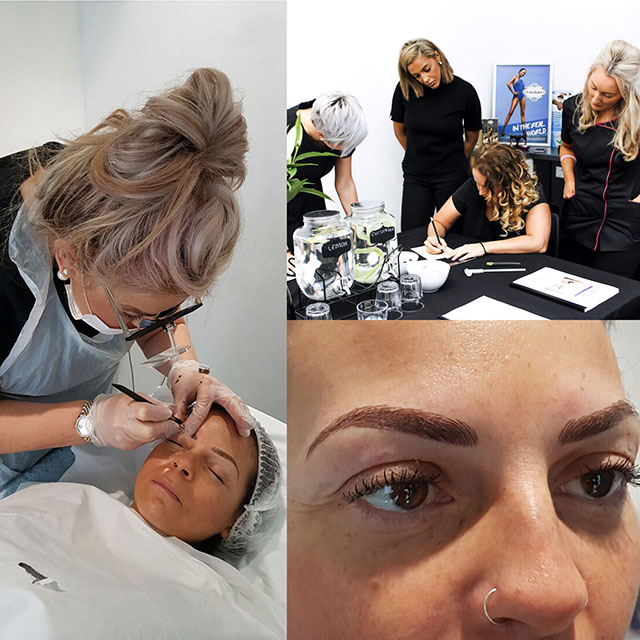 Microblading Brow Embroidery Course
Our intensive 3 day training course will give you the technique and the knowledge to perform brow microblading treatments.
We insist on small groups of 4, in our luxury training suites giving maximum support to our students.
This course will be divided into 2 days and a 3rd perfecting day. This training will also require two days of home pre course study.
Students will need to complete their online infection control for tattooing & beauty training, which is a course we offer.
The first 2 days course will consist of: 
• Hair stroke eye brows simulation using the hand tool method
• Eyebrow designs & hair stroke patterns
• Facial symmetry & face shapes
• Anatomy & physiology of the skin
• What is Semi Permanent makeup and who it is for
• Understanding different microblading tools
• Understanding Colours & pigment selection
• Stretching techniques
• Supervised Practice on models
• Starting your own business
• Client profile, ascertaining client needs and expectations
• Treatment Pricing
• Clinical Waste
• Licensing/Insurance
• Hygiene, health & safety
• Contra indications & contra actions
• Anaesthetics
• Aftercare
Day 3 – Perfecting day
• Supervised practice on model
• Perfecting hair strokes
• Troubleshooting
• Work on live models
Kit contents (10 treatments /kit profit potential -£2500- £3000)
Disposable blades x 10
Pigments x4
Practice skins x 3
Nitrile gloves 1 box
Face masks 1 box
Small clinical waste bags x 10
Antibacterial wipes
Aftercare cream
Sharp box
China pencil
Colour wheel
Tweezers
Pigment holder
Brow Divider tool
Course Price £1995   Finance options are available

Next Course Dates:
Days 1-3:  8-10 January, 5-7 February & 5-7 March    Reserve your place online today with a small deposit.
Customer Reviews
Additional Training Options
1 day Advanced brow patterns & hair stroke techniques
Advanced techniques: – different hair stroke patterns, use of different blades   £395
Our courses have been structured from start to finish with you in mind, to ensure that when you complete your training, you will leave with the specialist skills that guarantee you will feel confident to perform microblading procedures.
Your microblading tutors have over 8 years' experience in the SPMU industry and over 25 years in the aesthetic industry, with a wealth of experience and expertise that they will pass onto you.
Knowing that you have chosen with confidence the best training academy and you will gain a qualification that is renowned and acknowledged by your future clients,will give you the peace of mind you need.
Our courses are of the highest quality, and satisfied students are proof of our professionalism and standards.
Our course is approved and fully accredited by ABT (Associated Beauty Therapists) in UK.
Microblading is a great addition to any aesthetics treatment menu. Call now on 0121 270 5855